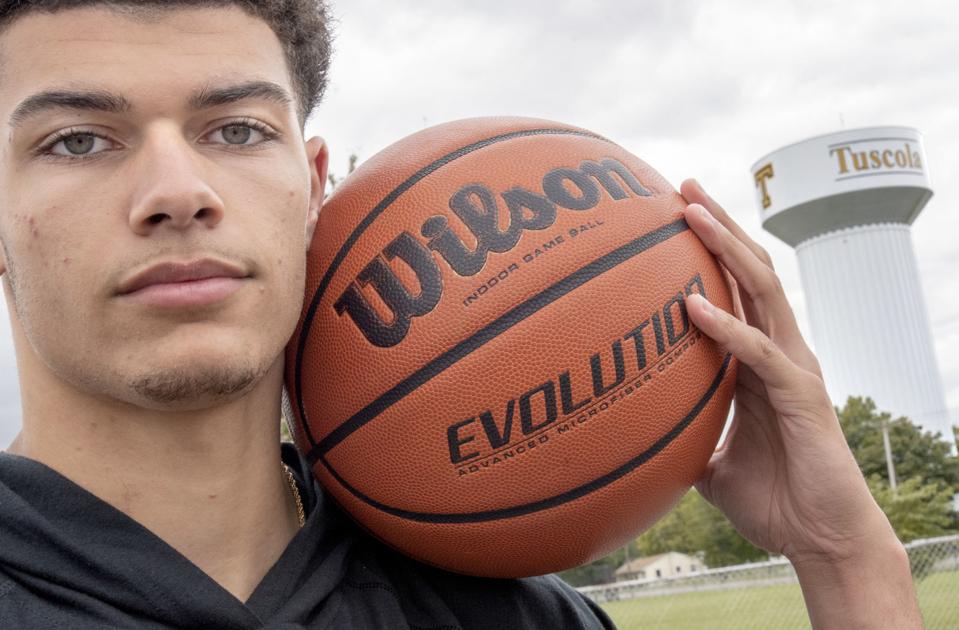 TUSCOLA — Coaching turnover can lead to plenty of change in high school athletes' college commitments.
Jalen Quinn's verbal pledge to Loyola Chicago men's basketball, which the Tuscola senior delivered Sunday night via Twitter, came in spite of former coach Porter Moser's departure for the same gig at Oklahoma last April.
That's because assistant coach Drew Valentine stayed behind and was promoted to fill Moser's vacancy with the Ramblers.
"The Division I basketball coach Jalen has had the longest relationship with is Drew Valentine. The Division I basketball coach Jalen has had the best relationship with is Drew Valentine," Tuscola boys' basketball coach Justin Bozarth said. "That's really hard to do, to have a unique relationship, where the person you trust and talk to the most is going to be at the school where you're going to play."
Quinn selected Valentine's program over offers from 14 other Division I institutions, including a few of the Power-Six variety.
The reigning News-Gazette All-Area boys' basketball Player of the Year has seen his college recruitment take off since the end of his junior season, during which the 6-foot-3, 180-pound point guard averaged 24.5 points, 8.0 rebounds and 4.0 assists for a Warriors team that finished 13-5. The reward for Quinn's efforts was that he earned Illinois Basketball Coaches Association Class 2A all-state first-team status.
After taking a visit to Loyola at the beginning of June, Quinn received additional offers from the likes of Saint Louis, Illinois State, DePaul, Rice, Virginia Tech, Wichita State and Northwestern.
This correlated with Quinn helping the Illinois Wolves' 17U AAU team to an Under Armour Association championship in July. Quinn was a starter for the Wolves and averaged 10.1 points, 4.4 rebounds and 2.8 assists.
"Watching Jalen succeed at a high level was kind of the icing on that cake," said Bozarth, who's also been instrumental in Quinn's recruiting process. "Over the last month or so, he really started to hone in on who's expressing the most interest in me and who puts an emphasis and value on wanting me."
The answer was Valentine and the Ramblers.
Valentine, a former Oakland forward and the brother of ex-Michigan State standout and current Chicago Bulls player Denzel Valentine, was the lead recruiter for Quinn when Moser was still with Loyola.
"One thing that always kept being discussed was at some point you're going to … feel like there's going to be a place you feel like you're the most wanted," Bozarth said. "Jalen felt like that from the very beginning (with Loyola), and that feeling hasn't changed regardless of the coaching change. To me, the place that valued him and wanted him consistently all along was Loyola."
Ramblers men's basketball has been the state's most-successful program in recent history.
Moser guided the team to the 2018 NCAA tournament's Final Four and past Brad Underwood's Illinois club in last season's round of 32. Loyola under Moser also won the 2015 College Basketball Invitational, a trio of Missouri Valley Conference regular-season titles and two MVC tournament championships.
"His family's extremely excited. Everybody in Tuscola is going to follow him," Bozarth said. "His away games are going to be in places like Bloomington, Terre Haute, Peoria. The conference tournament is in St. Louis. He's going to be within two hours for like two-thirds of his season, so that's pretty cool for us."
Quinn is the third verbal commit in Valentine's Class of 2022, joining Nebraska combo guard Jayden Dawson and Michigan small forward Treyvon Lewis. Some of the Ramblers' top returning guards this coming season — Lucas Williamson, Keith Clemons and Tate Hall — will leave open roster spots by the time Quinn arrives in Chicago.
"Loyola was one of the schools that really watched Jalen play every single game this summer," Bozarth said. "What they took away was Jalen's ability to make everybody on the court better. He puts his teammates in positions for success, and when he needs to go out and score or get a shot, he can do that."
Bozarth said Quinn will continue to seek on-court improvement even with his college decision solidified.
"One of Jalen's goals … is, by the time he arrives on campus this coming summer, he wants to have a college-ready body," Bozarth said. "Skill-wise … one of the things we're working on is him playing lower to the ground. When he does make his moves, just make explosive moves to the basket. His quickness defensively at the next level, I think that's one of the areas where he's going to be tasked with guarding a lot of different positions."
Quinn's summer with the Illinois Wolves, Bozarth said, provides the indication Loyola men's hoops will have many new supporters starting next year.
"I wasn't able to go anywhere within the last year … without people wanting to know who's talking to him (and) what do you think he's going to do," Bozarth said. "He had a really strong following with his AAU team, whether it was fans from Tuscola going to Indy to watch him play live or people paying $20 a day to watch his games. It's incredible."