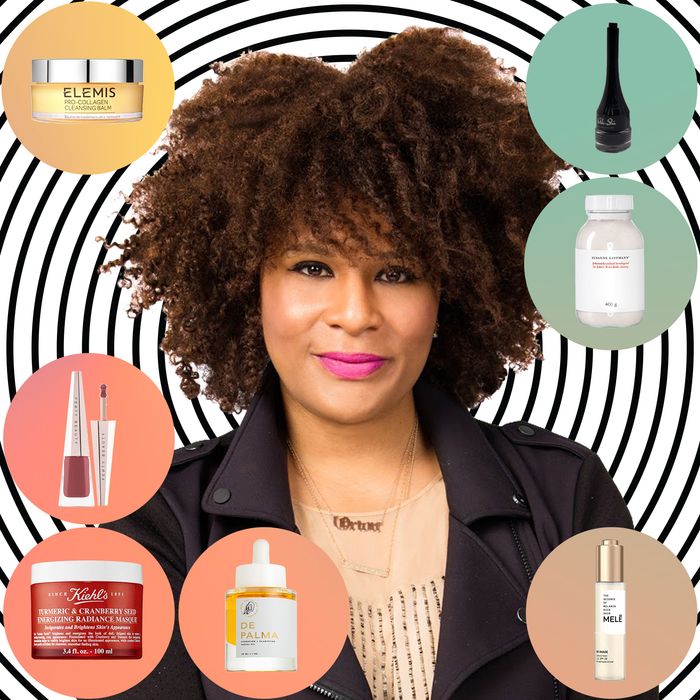 Photo-Illustration: by The Cut; Photos: Courtesy of Julee Wilson, Retailers
On the Beauty Group, a Facebook community co-founded by the Cut and the Strategist, people chat all day long about the products they love — the ones so good they'll make you hit that little "auto-refill" box at checkout. Below, we asked one of our favorite beauty pros to share her own selections.
In a game of "Fuck, Marry, Kill" between make-up, haircare, and skincare, Julee Wilson kills makeup. "If I was skilled at putting on my makeup, maybe I would care more about it, but I'm no Sir John," says Cosmopolitan's beauty director. As for her lover, that's all skincare "because it's sexy" but also because "your skin's always fucking with you, too," she reasons. "Like, it'll be good one day and then it'll be bad the next. It's kind of like makeup sex after a breakup. You hate the person one day, and then two days later you're fine, and you're like, 'I love you.'" Plus, there are all kinds of skincare gadgets and tools — some of which look more like sex toys than actual sex toys.
Wilson's hair, meanwhile, is worthy of being her partner. "My hair is my crown," she says. "It is a complete extension of my light and a part of my Black-girl magic. Black hair is just so magical; we can do so much with it and we can tell so many stories through it."
Wilson is happy to see more retailers and investors are aligning with her philosophy and supporting Black-owned brands. The changing beauty landscape is in part due to 2020's wave of protests against police brutality following George Floyd's murder. At the time, publication after publication came out with a listicle of Black-owned beauty brands to shop. And while Wilson was glad to see the brands getting more recognition, she couldn't help but look at some of the lists and think, "20? 30? That's cute, but … there's way more than that." Brands that many seemingly discovered overnight, Wilson has been championing for much of her career. "I did a list of 125 Black-owned brands (which has since grown to 160) for Cosmo because I knew these founders and companies that people were all of a sudden like, 'Oh, look at this Black-owned brand,'" she remembers. "I was like, 'This Black-owned brand has been around, and they've been trying to get your attention, and they've been out here doing the work and being really thoughtful about their formulations."
As initiatives like Aurora James's 15 Percent Pledge and Sharon Chuter's Pull Up Or Shut Up campaign continue to highlight Black-owned brands, Wilson has a question for investment firms and retailers: "Why weren't you getting that money [before]?" She elaborates, "Not only is it just a good thing to be thoughtful about people other than yourself, but it makes good business. When I'm talking to [retailers] I'm like, 'You don't like making money because you are ignoring a whole community of people. My white girlfriends, they're like, 'This is a shampoo, I use this as a conditioner, [and] I use this as a styling product—those are my three holy-grails.' Meanwhile, I'm like, 'I'm going to tell you my three holy-grails when I'm doing a twist-out; I'm going to tell you my three holy-grails when I blow out my hair; I'm gonna tell you my three holy-grails when my hair is in braids.' Our arsenals, because we can do so much with our hair, are huge." Another missed opportunity Wilson notes? Hair bonnets. "How do all these hair companies not have a hair-protecting something, like a bonnet or a slap cap?" That's a whole market and a whole beauty ritual that women of color do every single night." The last bit of advice she's willing to dole out for free is that supporting Black brands and creating products for Black consumers needs to be a thoughtful, sustained effort. "What are you doing to make sure that this isn't performative?" is a question that should stay top of mind.
Below, Wilson shares 11 products from her own beauty stash, including the sunscreen that was specifically formulated for women of color, the lipstick with a 10-hour wear time, and the satin-lined slap cap she wears to bed.
The Sunscreen
The Cleansing Balm
The Face Mask
The Vaginal Wash
The Bath Powder
The Face Oil
The Lipstick
The Eye Liner
The Hair Cap
The Foundation
The Hair Cleansing Cream