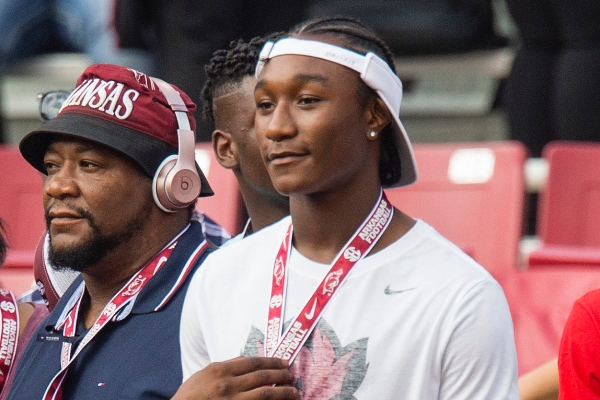 Little Rock Parkview linebacker/quarterback Jaylon White may have been the last of 12 in-state prospects Arkansas offered in the 2022 class, but the Razorbacks have since made him feel like royalty.
That includes a mid-June visit to Fayetteville that White (6-3, 208) took with his parents and Patriots head coach Brad Bolding in which the relationship flourished.
"They made me feel great when I went up there on my unofficial visit," White said. "It made me feel like they really want me and that was important to me. I feel very wanted now.
"They also let me know that me and my family could come to any game we wanted."
Bolding says the Arkansas staff was impressive during the visit and the relationship has advanced with White.
"I think it has grown really well," Bolding said. "Obviously I don't know what all they do when they talk to him daily, but when I went up there with him they rolled out the red carpet.
"It is almost like they had a GPS on us when we rolled up in there. They had about eight coaches there to greet us and about five more in the lobby. All the people that are involved in recruiting were there. I think they handled that really well and they made up a lot of ground that day."
White is scheduled to be back in Fayetteville on July 31, when Arkansas hosts its annual barbecue and recruiting event.
"I know I am coming to see some games this season, but my next time up there will be when we are coming when Arkansas has its BBQ," White said. "Our relationship is really cool."
That is likely when White, who took official visits to Louisville and Kansas in June, will set up his official visit to Arkansas.
"I haven't set up any other visits yet, but I am supposed to set up the one with Arkansas soon," he said.
White has accumulated 22 offers, including ones from Arkansas, Oklahoma State, Baylor, Ole Miss, Kansas State, Indiana Arkansas State, Memphis, Liberty, Oregon State and SMU.
"I thinking I'm about to cut things down and come out with my top eight," White said. "Arkansas will obviously be in my top eight."
"He is handling it all really well," Bolding said. "His family is highly involved, both his mom and his dad. He doesn't miss a beat, comes down here every day, works hard and I've been really pleased with him at team camps and 7-on-7s this summer."
White is taking over as Parkview's starting quarterback with Landon Rodgers graduated and now a freshman for the Razorbacks.
"He looks really good," Bolding said. "He has had the opportunity to get a lot of reps because he wasn't the starter there last year.
"I have been really pleased with him. He has done a lot of off-the-field work to continue to get better when he is not here."
White earned his offers through his play last season at safety, where he had 59 tackles, 5 tackle for loss, 2 recovered fumbles, 2 interceptions, 8 pass breakups, 1 blocked punt and 2 rushing touchdowns.
"We tried to get him a little bit more on defense this last team camp because we are doing some stuff that he needs to pick up on, but he has been able to balance both sides really well," Bolding said.
Arkansas is hoping to get a commitment from White to join Parkview tailback James Jointer (6-2, 210), who is committed to the Razorbacks and following in the footsteps of Rogers and Razorbacks 2021 tight end signee Erin Outley.
Jointer suffered a season-ending injury in Week 2 last season, but is full-go now, according to Bolding.
"He is coming every day, getting ready and right on target," Bolding said. "Looks like he is getting used to not having a brace on and seems to have a lot of confidence on the leg and is back to where he was pre-injury with his speed and all that, which is good because he is about 20 pounds heavier than he was then."
Parkview, which will play its home games at War Memorial Stadium, begins preseason practice on Monday, Aug. 2.
The Patriots have a preseason scrimmage at Little Rock Catholic on Aug. 17 and open the season against Little Rock Southwest on Sept. 1, one of three Thursday night games they will play this season.
"Biggest question for us falls on the defensive side as there is a couple of spots there that we have got to shore up between now and then, especially at the inside linebacker spots," Bolding said.
"We are looking good," White said. "We have been in a lot of team camps and have gone up against some good teams in Bryant and North Little Rock.
"We competed pretty well against them."